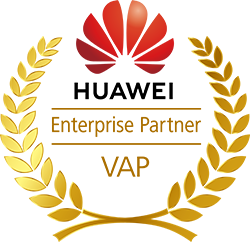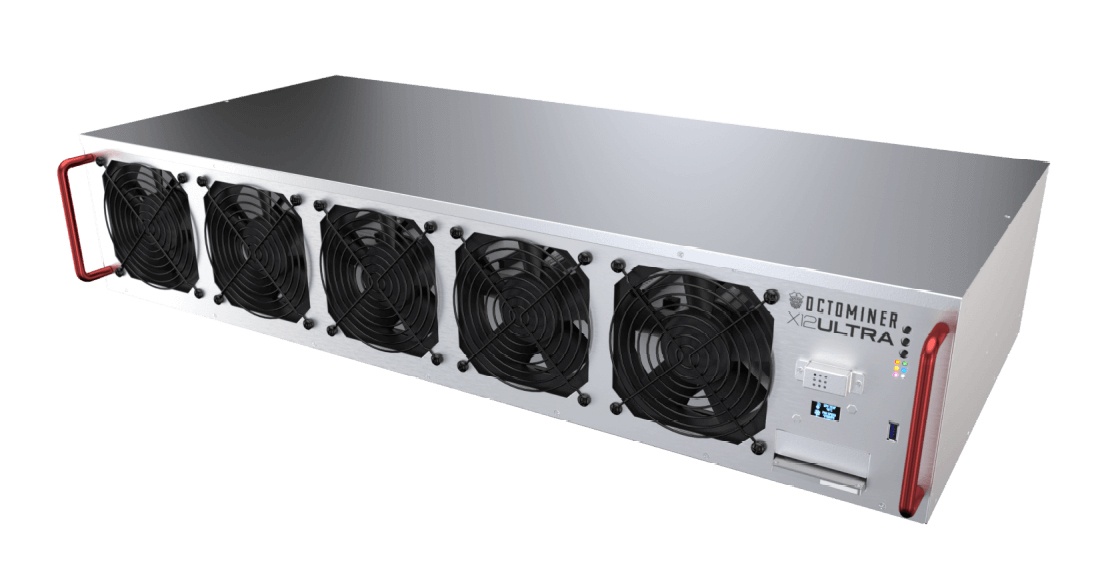 Octominer X12ULTRA Smart GPU Mining Rig Intel G3900, 2250W, 4 GB DDR3, 30 GB SSD
Product Code:
OCTOMINER-X12U-2250
Catalog number: 8894
Warranty (months):
Special offer
Lowest price in the last 30 days: 1 053,69 € excl. tax





The smartest and most reliable GPU mining rig on the market. Built for efficiency and ease of management. Full software & hardware integration with any mining OS (debug LED's, hardware watchdog for auto reboot on frozen rigs, smart fan speed controller which djust the case fan speed to keep GPUs at optimal temperatures). Up to 10% lower power consumption compared to other GPU mining rigs.
Set content
Why Octominer X12ULTRA?
Build for efficiency
You don't have to use additional risers.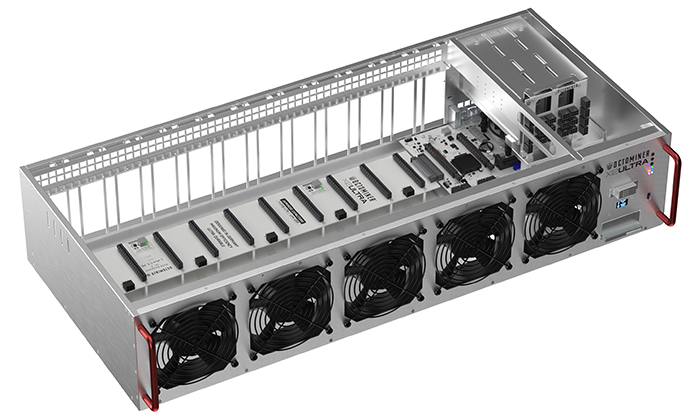 Ethereum hashrate up to 683 Mh/s using 12x Radeon 5700 series GPU at 1600 W
Power consumption may vary up to 5% depending on exact GPUs used and miner settings. 1600 W power reading is actual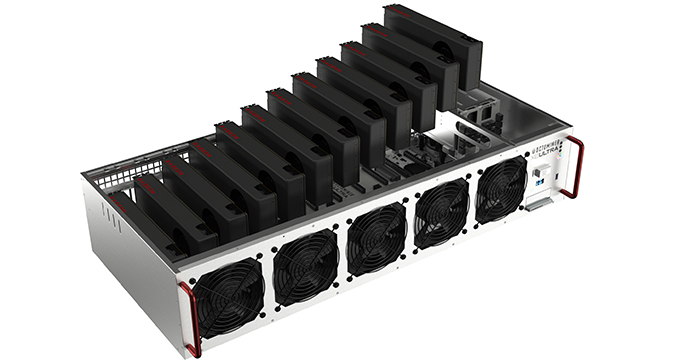 Designed for large scale blockchain deployments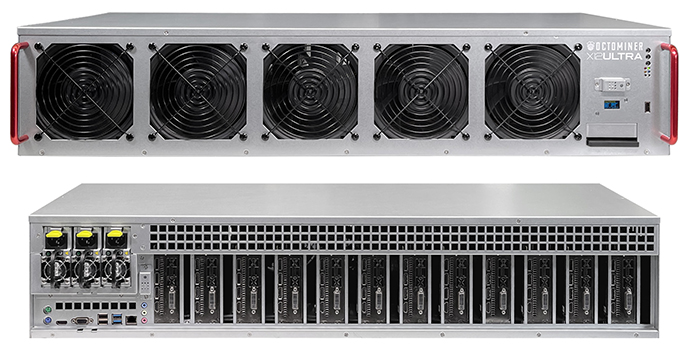 Clean and high quality power delivery
X12ULTRA has 2250 W power supply.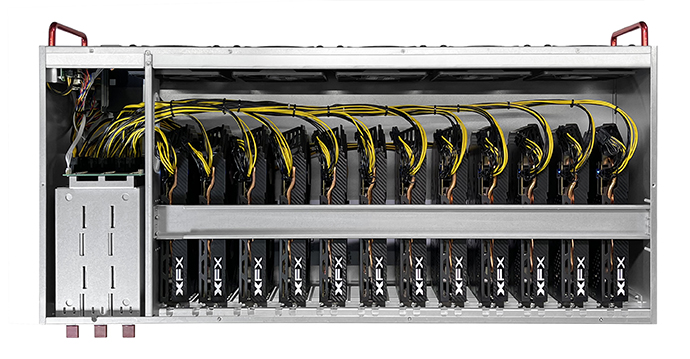 60.96 mm GPU to GPU spacing
Compatible with all triple slot width GPUs
Octominer smart power supply telemetry features
monitor PSU input and exhaust temperature
monitor and control PSU fan speed
monitor PSU 12 V output voltage
monitor PSU AC input voltage
monitor power consumption
Smart power supply telemetry readout example:

High performance & long lifespan fans
Octominer Ventus fans with high static pressure and CFM for increased airflow and optimal cooling performance
heavy duty RoHS certified plastic blades and housing
optimized PCB and motor design (up to 20% more efficient)
improved reliability and heat dissipation due to thick copper PCB
reliable japanese NMB double ball bearings for increased lifespan
high precision and efficiency PWM modulation speed control
140x38mm size provides higher airflow and efficiency and also lower noise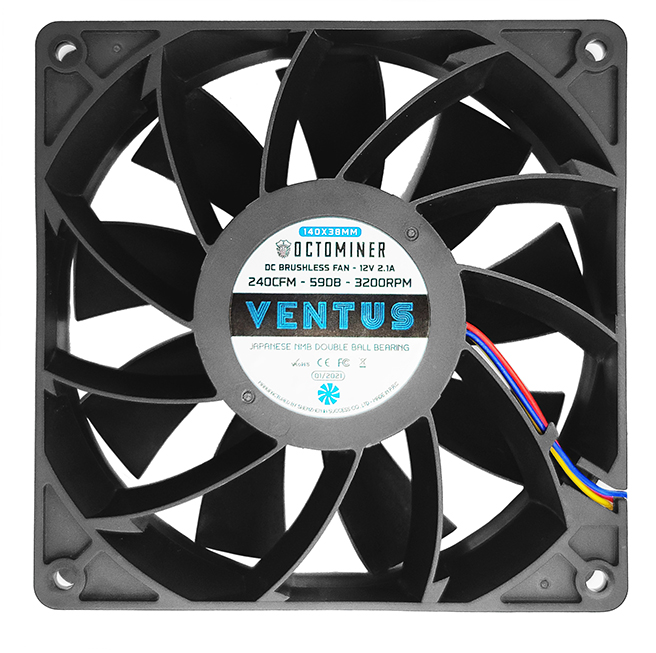 Accurate environmental data
Take full control of your environment. Precise and fast environmental data helps keep your hardware safe from extreme conditions and helps maintain optimal cooling settings for the case fans. Save on electricity and keep your hardware cool!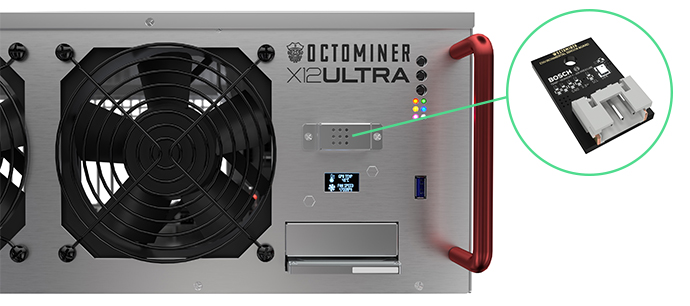 Environmental sensor technical specifications
Operation range

Pressure: 300 - 1100 hPa

Temperature: -40° - 85° C

Humidity sensor
Response time
1 s
Accuracy tolerance
±3% relative humidity
Hysteresis
<2% relative humidity
Pressure sensor
RMS Noise
0,2 Pa
Sensitivity error
±0,25%
Temperature coefficient offset
±1,5 Pa/K
Smart hardware watchdog & fan controller
Full integration with any mining OS allows the smart fan controller & hardware watchdog to automatically regulate the case fan speed based on the environmental readings to keep the GPU temperatures in the optimal zone. It is possible to choose the "optimal temperature" range in the mining OS and set the minimum RPM for the case fans. Or you can choose any RPM and lock the fans into a set RPM using the manual adjustment.
The hardware watchdog will reboot a frozen rig automatically after the microcontroller detects that the rig has frozen and needs a reboot.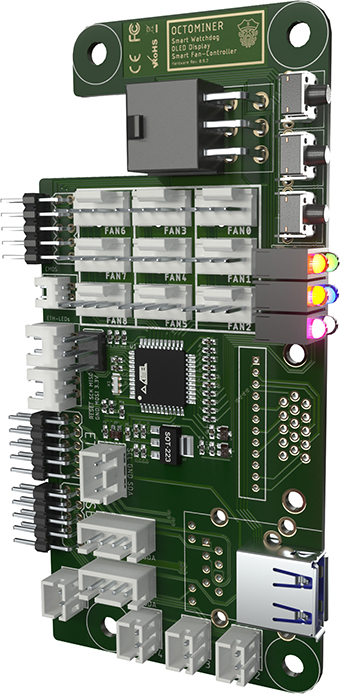 Full hardware and software integration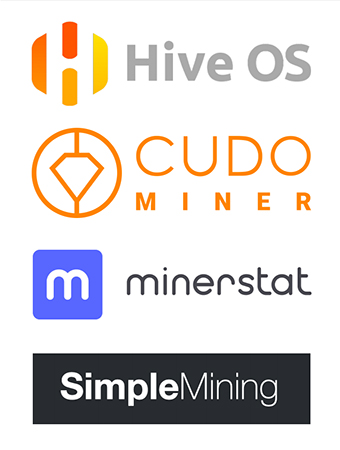 full control over case fan speed
automatic case fan RPM adjustment based on GPU core and memory temperatures
full power supply telemetry readout and integration
accurate power consumption and voltage readings
debug LED (4 different color LED's on the front of the rig) to help quickly and efficiently find, detect and troubleshoot problematic rigs
full environmental data readout per each rig, input temperature, exhaust, humidity and exhaust temperature
Octominer smart hardware watchdog integration does automatic reboots on frozen and crashed rigs
front panel oLED screen integration that displays all the major data from the rig. Hashrate, IP, MAC address, power consumption, bad shares, fan speed and temperature
Integration example for X12ULTRA
Octominer AutoFan will regulate the case input fan speed to keep the GPU core and memory temperatures in the optimal range. Possible to sent the minimum and maximum speed limiters.
Monitor the individual speed of all 5 case fans. Detect if any of them have failed or are out of spec.
Monitor accurate power draw from the wall. Octominer rigs in Hive OS display the actual power draw from the wall, not the estimated power draw of GPUs combined.
Example: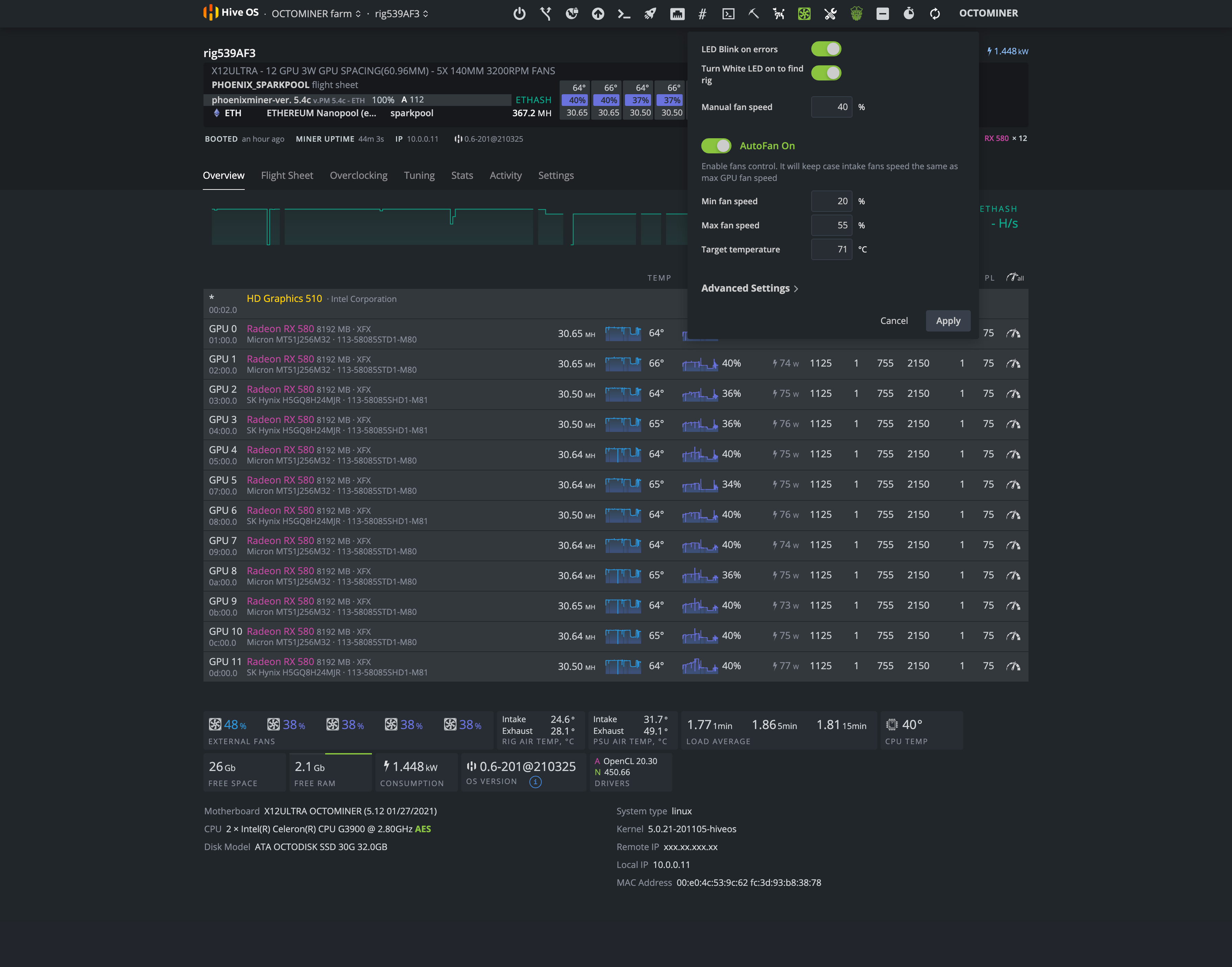 The product doesn't include GPU!
Specifications
X12ULTRA 2250W
CPU

Intel G3900

Dual core

2,8 GHz

Power supply
2250 W
RAM
4 GB DDR3
SSD
30 GB
Cooling system

5 fans

140x38 mm

PWM speed control

Hardware watchdog & smart fans

Automatic fan speed control

Automatic system reboot

Status LED's

OLED display with system info

Bosch environmental sensor

Air pressure, temperature and humidity readings on both inlet and temperature exhaust air

Operating system
Hive OS pre installed
Dimensions
90x40x17,8 cm
Weight with package
~22.5 kg / 794 oz
×
Customers who bought this product also purchased
Other products in the same category that you may find interesting: