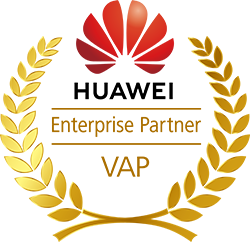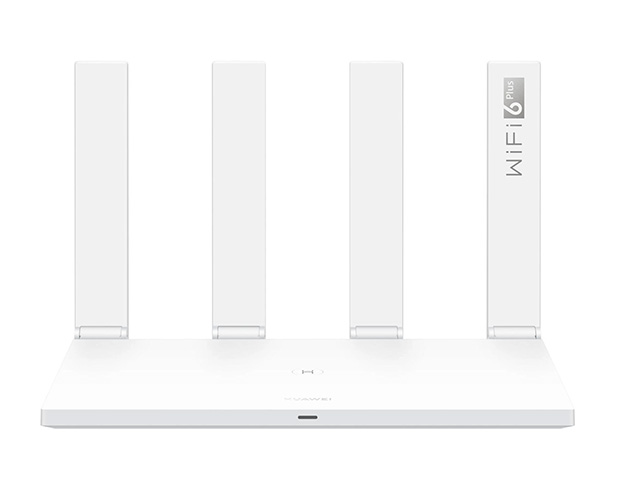 Huawei WS7100-25 AX3 wireless router Wi-Fi 6 AX3000, 4x GE
Product Code:
HUA-WS7100-25
Catalog number: 9465
Warranty (months):



Huawei AX3 is a wireless dual-band router that supports 2.4 and 5 GHz. The device supports WiFi 6 and the IEEE 802.11ax standard. It is a completely new protocol that offers much higher throughput than previous standards, including 802.11ac. In 5 GHz, it uses 1024-QAM modulation and a channel width of 160 MHz (2x 80 MHz), which gives a total maximum theoretical throughput of 2402 Mb/s. At the same time, the bandwidth of 2.4 GHz has also been improved, which is up to 574 Mb/s.
The offered product is equipped with 4 gigabit Ethernet ports, including 1 WAN port and 3 LAN ports. 4 external omni-directional antennas are responsible for the transmission, ensuring a very good transmission range. An additional advantage is the Dynamic Narrow Bandwidth technology, which also positively affects the range. The router can send and receive data from many devices at the same time (4 in the 2.4 GHz band, 16 in the 5 GHz band), thanks to which the throughput and transmission quality are significantly improved. The maximum number of connected clients is 128.
An additional, very useful feature is the wireless uplink. Routers can be connected in one network wirelessly with just one button - "H". The network created in this way works in a manner similar to the Mesh network. AX3 is also compatible with other, older Huaweia routers and can connect to them wirelessly.
Wi-Fi 6 standard
The router can transmit a wireless network in the 2.4 and 5 GHz bands simultaneously, in accordance with the Wi-Fi 6 standard. It uses the IEEE 802.11 b/g/n/ax protocols in 2.4 GHz and IEEE 802.11 a/n/ac/ax. It is much more efficient than Wi-Fi 5 devices, providing higher throughput, lower latency and the ability to connect more clients.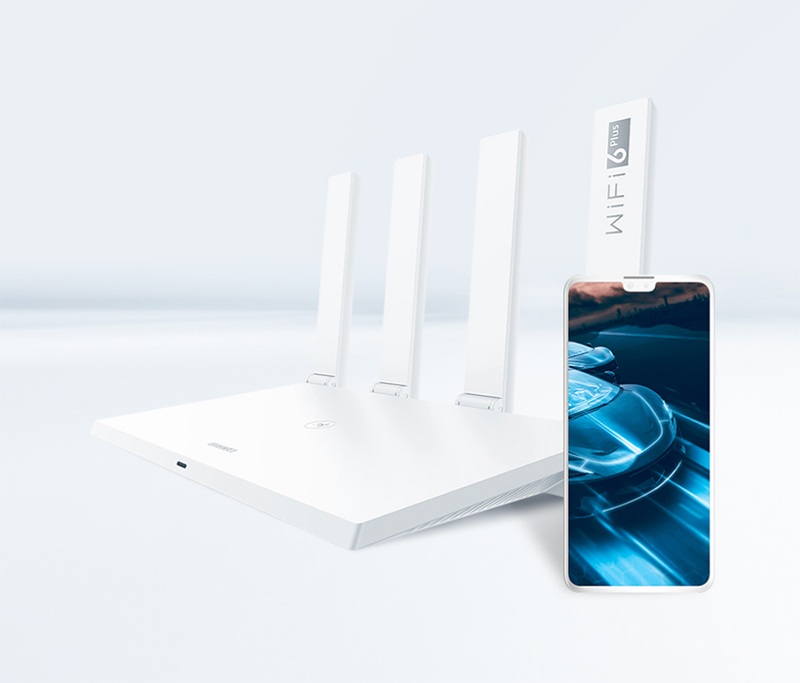 Larger Bandwidth with 160 MHz
The offered product supports channels with a width of 160 MHz, so you can take full advantage of the bandwidth offered by Wi-Fi 6. Competitive solutions using 80 MHz channels provide Wi-Fi speeds twice as slow as Huawei AX3.
Large transmission range
The device is equipped with 4 external high gain omnidirectional antennas. In addition, it uses DNR (Dynamic Narrow Bandwidth) technology, which makes it easier to penetrate various types of obstacles. Huawei AX3 provides a large range and a stable signal, which will be appreciated by most home users.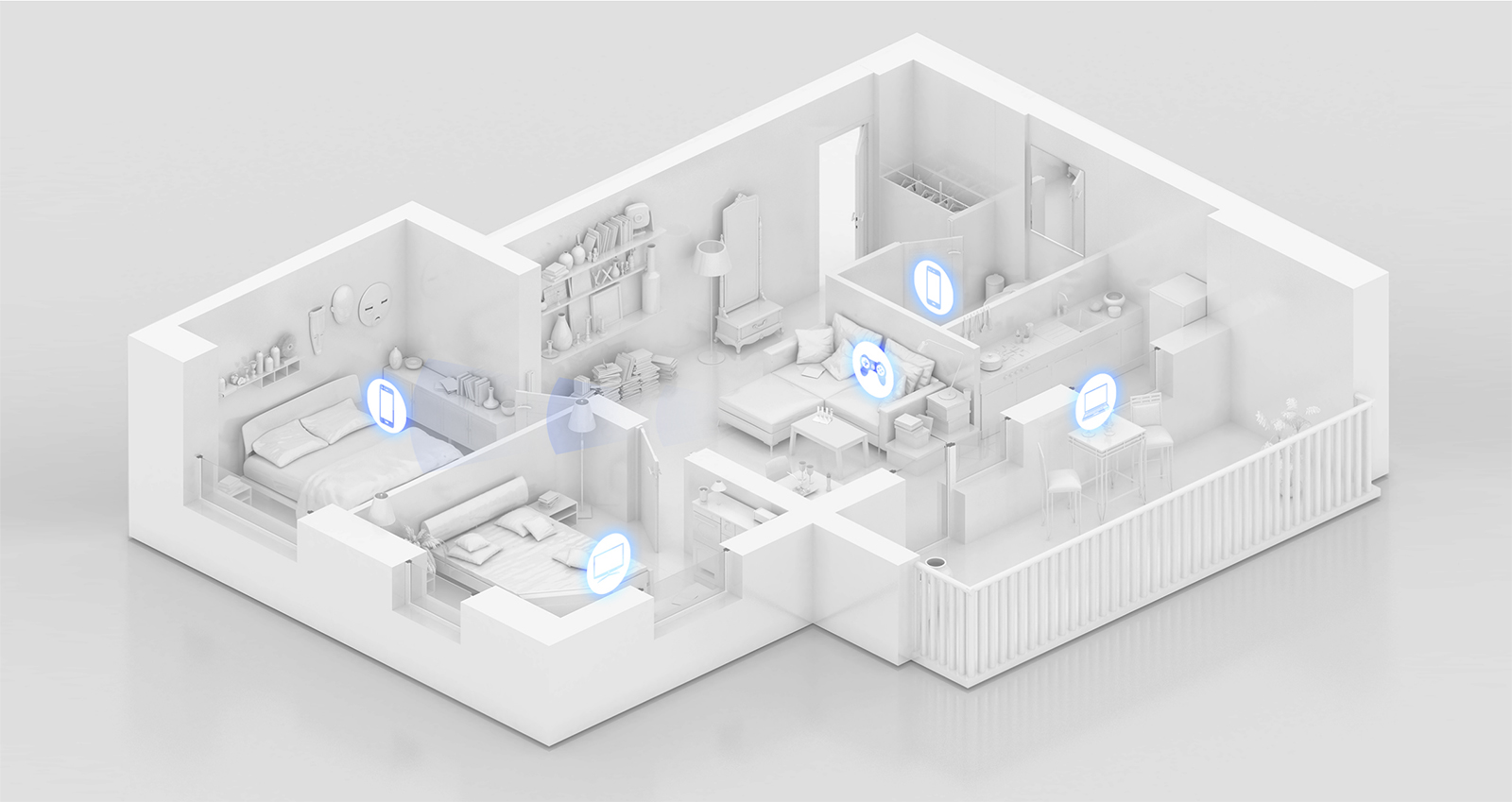 AX3000 wireless network
The maximum theoretical throughput of the wireless network is 3000 Mb / s - 574 Mb / s in the 2.4 GHz band and 2402 Mb / s in the 5 GHz band. This speed can be achieved thanks to the use of the Wi-Fi 6 standard, 1024-QAM modulation and 160 MHz channel width. This is a bandwidth that is completely sufficient for most applications, including online gaming or watching movies with very high resolution. AX3 will meet the requirements of every user.

Dual core CPU, high performance
The Huawei AX3 has a 1.2GHz dual-core processor that provides great routing performance. An additional advantage is the ability to connect up to 128 client devices, without worrying about the decrease in network stability. This is possible thanks to the use of OFDMA and MU-MIMO technology, which allows you to simultaneously transmit and receive data to many users.

Mesh system
The router supports the Mesh system, it can wirelessly connect to another compatible device to create a wireless network. Such a network is visible under one name, despite the fact that it is advertised by several devices. You can pair the routers using the "H" button on the case. No additional configuration is needed for this. You can also connect devices within one network with an Ethernet cable if you do not want to use wireless communication.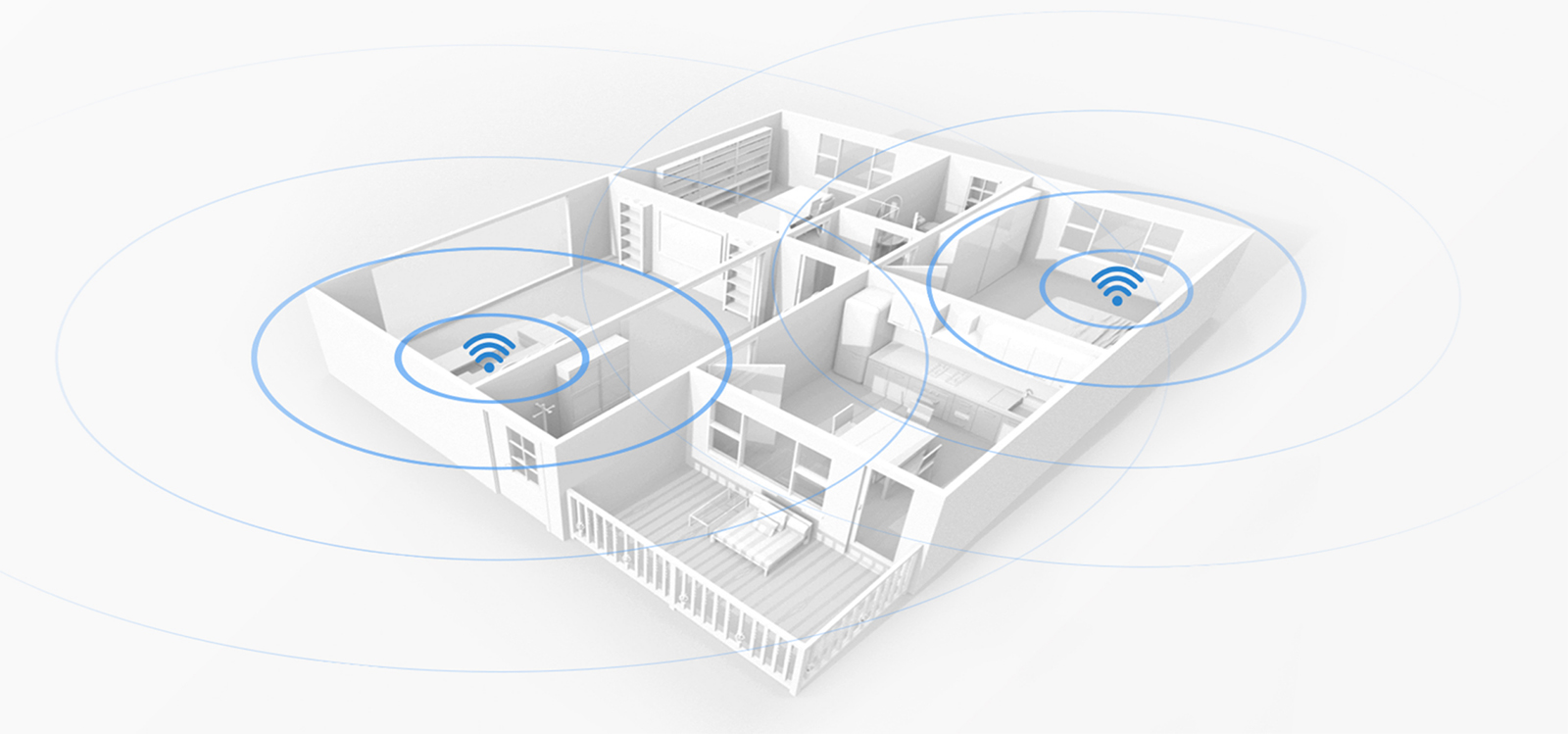 Specifications
Huawei AX3 WS7100-20
Dimensions and weight
225 mm x 159,2 mm x 39,7 mm
About 387 g
Colour
White
Security

Anti-brute force algorithms, WPA3, Firewall, DMZ, PAP / CHAP, DMZ / DoS attack protection

Interface
WAN: 1 x 10 / 100 / 1 000 Mbps Ethernet
LAN: 3 x 10 / 100 / 1 000 Mbps Ethernet
Buttons
H button for one-key pairing and WPS compatible
Independent Reset
Indicators

1 state indicator light

Functions

APP: HUAWEI AI Life App

Huawei HiLink & 802.11v protocol, IPv4 / IPv6, PPPoE / DHCP / static IP address / Bridge WAN connection methods, Wi-Fi timer, Guest Wi-Fi, Device speed limiting, MAC address filter, Parental control, VPN pass through, DMZ / virtual server

Power supply
12 V / 1 A; power consumption < 12 W
Processor

Gigahome Dual-core 1.2 GHz CPU

Wi-Fi
802.11ax/ac/n/a 2 x 2 & 802.11ax/n/b/g 2 x 2, MU-MIMO
Wireless speed is up to 2976 Mbps (2.4 GHz: 574 Mbps; 5 GHz: 2402 Mbps)
Customers who bought this product also purchased
Other products in the same category that you may find interesting: