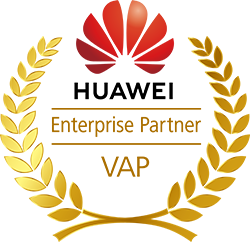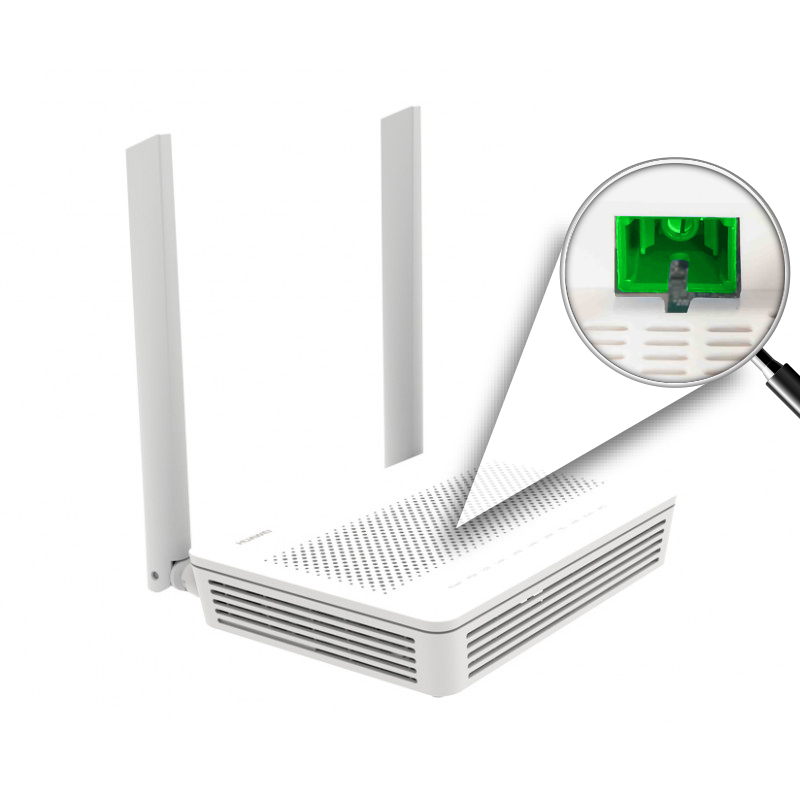 Huawei EG8145V5 GPON ONT terminal 4x GE 1x RJ11 (POTS) 1x USB dual band WiFi 2,4 / 5 GHz
Product Code:
HUA-EG8145V5
Catalog number: 6723
Warranty (months):
The product from official European distribution




The WAN-side access
The WAN-side access is blocked for security reasons in the latest firmware. This restriction takes effect 8 minutes after turning on or restarting the ONT terminal. If you require firmware that allows continuous WAN-side access, please contact:
serwis@cdr.pl
Overview
The EchoLife EG8145V5 is a intelligent routing-type Optical Network Terminal (ONT) in Huawei FTTH solution. By using the GPON technology, ultra-broadband access is provided for home users. The EG8145V5 supports 802.11ac dual-frequency bands and features high-performance forwarding capabilities to ensure an excellent experience with voice, Internet, and HD video services. These features make the EG8145V5 a perfect option for broadband access.
Admin access login credentials: Epadmin / adminEp
Smart interconnection
Smart Wi-Fi coverage
SIP/H.248 auto-negotiation
Any port any service
Parental control
L2/L3(IPv4) forwarding: 1G uplink, 2G downlink
Smart service
Scheduled Wi-Fi shutdown
Smart Wi-Fi sharing:Portal/802.1x authentication SoftGRE-based sharing
Smart O&M
IPTV video quality diagnosis
eMDI
Rogue ONT detection and isolation from the OLT
Call emulation, and circuit test and loop-line test
PPPoE/DHCP simulation testing
WLAN emulation
Layer 3 Features
PPPoE/Static IP/DHCP
NAT/NAPT
Port forwarding
ALG, UPnP
DDNS/DNS server/DNS client
IPv6/IPv4 dual stack, DS-Lite and IPv6 SPI
Static/Default routes
Multiple services on one WAN port
Multicast
IGMP v2/v3 proxy/snooping
MLD v1/v2 snooping
QoS
Ethernet port ratelimitation
802.1p priority
SP/WRR/SP+WRR
Broadcast packet rate limitation
Security
SPI firewall
Filtering based onMAC/IP/URL addresses
Common O&M
OMCI/Web UI/TR069
Variable-length OMCI messages
Dual-system softwarebackup and rollback
Power Saving
Indicator power saving
COC V5
Specifications:
EG8145V5
DEVICE PARAMETERS
Dimensions (H x W x D)
30 mm x 173 mm x 120 mm (without external antenna and pads)
Weight
About 250 g
Operating temperature
0°C to +40°C
Operating humidity
5% RH to 95% RH (non-condensing)
Power adapter input
100–240 V AC, 50 / 60 Hz
System power supply
11–14 V DC, 1.5 A
Static power consumption
5.3 W
Max. power consumption
18 W
NNI
GPON
UNI
1POTS+4GE+2.4G/5G Wi-Fi+1USB
Optical connector
SC/APC
Indicators
POWER/PON/LOS/LAN/TEL/USB/WLAN/WPS
Installation mode
On the desk, or on the wall
Compliance certification
CE/WiFi
INTERFACE PARAMETERS
GPON Port

• Class B+

• Receiver sensitivity: -27 dBm

• Overload optical power: -8 dBm

• Wavelengths: US 1310 nm, DS 1490 nm

• Wavelength blocking filter (WBF) of G.984.5

• Flexible mapping between GEM Port and TCONT

• GPON: consistent with the SN or passwordauthentication defined in G.984.3

• Bi-directional FEC

• SR-DBA and NSR-DBA

•Type B (single-homing&dual-homing)

Ethernet Port

•Ethernet port-based VLAN tags and tag removal

• 1:1 VLAN, N:1 VLAN, or VLAN transparenttransmission

• QinQVLAN• Limit on the number of learned MAC addresses

• MAC address learning

• Auto-adaptive 10 Mbit/s, 100 Mbit/s or 1000 Mbit/

POTS Port

•Maximum REN: 4

• G.711A/μ, G.729a/b and G.722 encoding/decoding

• T.30/T.38/G.711 fax mode

• DTMF

• Emergency calls (with the SIP protocol)

USB Port

•USB2.0

•FTP-based network storage

•File/Print sharing based on SAMBA

•DLNA function

WLAN

•IEEE 802.11 b/g/n (2.4G)

•IEEE 802.11 a/n/ac (5G)

•2 ×2 MIMO (2.4G&5G)

•Antenna gain: 5 dBi

•WMM/Multiple SSIDs/WPS

•2.4G&5G concurrent

•Air interface rate:300 Mbit/s (2.4G); 867 Mbit/s(5G)
Customers who bought this product also purchased
Other products in the same category that you may find interesting: